Biochar as a replacement for perlite in greenhouse soilless substrates
This is an excellent master's thesis. We need more like this. I would like to see complete characterization of the biochars used , following the IBI protocol. We also need better characterization of other materials that are used such as perlite or peat rather than just a reference to their supplier.
http://lib.dr.iastate.edu/etd/13399/
Biochar as a replacement for perlite in greenhouse soilless substrates
Jake Northup, Iowa State UniversityFollow
Thesis, 2013, Master of Science Department of Horticulture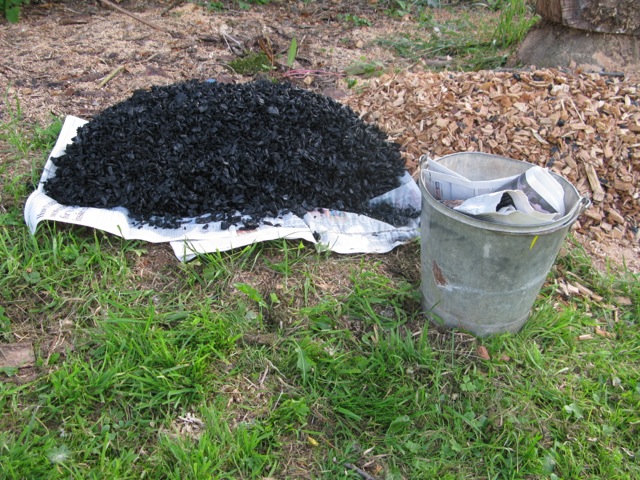 Abstract
Biochar is a solid, carbonaceous coproduct of the pyrolysis process used for biofuel production. Many field studies have shown improved chemical and physical properties of soil after amendment with biochar. The benefits of biochar may extend to soilless substrates used in the greenhouse industry, and the porous nature of biochar may make it a suitable replacement for perlite in greenhouse substrates. The objectives of this research were to determine the most suitable biochar particle size and percentage for use in a greenhouse substrate, to determine if biochar can eliminate the need for amendment with limestone, and to demonstrate plant growth in substrates with biochar as a component.
We obtained four sizes of prescreened hardwood biochar and blended each with sphagnum peat to create 40 substrates for experimental trials. The pH of leachate from each substrate was recorded over a 16-week period. Substrate pH increased as the percentage of biochar increased. At the same percentage of biochar in the substrate, decreasing the particle size of biochar increased substrate pH. Several biochar-sphagnum peat mixtures, without limestone amendment, led to a substrate pH appropriate for container-grown plants. Eight of the nine substrates selected for evaluation met recommended physical parameters for use in containers for greenhouse crop production. One substrate, 30% BC10 blended with 70% sphagnum peat, was similar to the control, Sunshine LC1 (Sun Gro Horticulture, Agawam, MA) in all measures except bulk density. Plants grown in biochar-containing substrates were compared to plants grown in a commercial substrate that contained sphagnum peat, perlite, and limestone (Sunshine LC1). Plants grew in each substrate for 27 or 35 days. Electrical conductivity and pH were measured 14 days after transplanting and at the end of each trial. Results varied among trials and crops grown. Many biochar-based substrates produced plants with shoot dry mass greater than or equal to the control. These results demonstrate the potential for biochar to replace perlite and eliminate the limestone amendment needed for commercial greenhouse soilless substrates based on sphagnum peat. Soilless substrates containing biochar as a replacement for perlite and limestone can successfully be used for greenhouse plant production.
Thanks Erich J. Knight for the linkedIn in post. For Erich's biochar news click here >>>>