I have been busy developing the first production run of Bazman Rumbler Batch Gasifiers for the Earth Haven Project in the Northern Rivers area of NSW – Australia
They are a 130 litre top lit up draft gasifier, the primary chamber, condenser, flue and spark reducer are all stainless steal, a chamber hung design reduces thermal transfer to the outer frames user contactable surfaces. The design has been developed over the last 8 years into a refined and safe machine to operate. Emissions are greatly reduced with tertiary air intakes and a large flue acting as a thermal oxidiser. No visible smoke is produced from light up to quenching under normal operating conditions.
The units are currently processing hardwood chip in under 40 minutes converting 130 litres of chip into 50 litres of Biochar (approximately 25kg dry weight) , the new units design cools down in approximately 10-15 minutes allowing for safe reloading and re-igniting. The unit uses no fans or power inputs and requires no user input until the unit is ready to quench.
The unit has been developed with the user in mind, a well balanced design allows the user to easily wheel the unit out of storage, slide the flue into place, using a simple pole and hook design tilt over the flue and condenser, add the units simple quench indicator pin and fill the unit with either a chipped or mulched dry feedstock. Nut shells and husks are also suitable feed stocks. Light up is a simple process requiring a small amount of newspaper and some fine sticks, once lit the unit will quickly rumble and roar into action.
The unit has a unique pivoting grate system which easily allows the user to quench the hot biochar. Operating tempertures in the range of 600-750 degrees Celsius can be achieved but is feedstock dependant. The unit includes a quench drum which fits snugly under the primary chamber, sparks created during the quench process are controlled using a sealer plate and a custom tool to block the secondary air vent.
This unit has been designed for small rural businesses that have access to suitable feed stocks. In theory 5 units could be run with one user producing 250 litres (approximately 125kg) of biochar an hour from an investment of under $15000(5 units plus handling and bagging equipment.) Wholesale prices of biochar vary but current value is approximately $1 per litre.
Moving and handling of bulk amounts of biomass does require a high level of fitness and strength.
Units are all built on site by myself using new and recycled materials with a 2-3 week lead time.
I have also developed a heavily modified 100 litre cone burner which is suitable for small acreage sites, this new style of unit has been developed to process small logs, branches, chunky biomass and wood weeds like Lantana. I hope to have some photos of the first production run in the next few weeks.
The photo below shows three Bazman Rumbler units, The left unit is a site running production unit, the centre unit is almost complete, the right unit is a demo/show unit at present.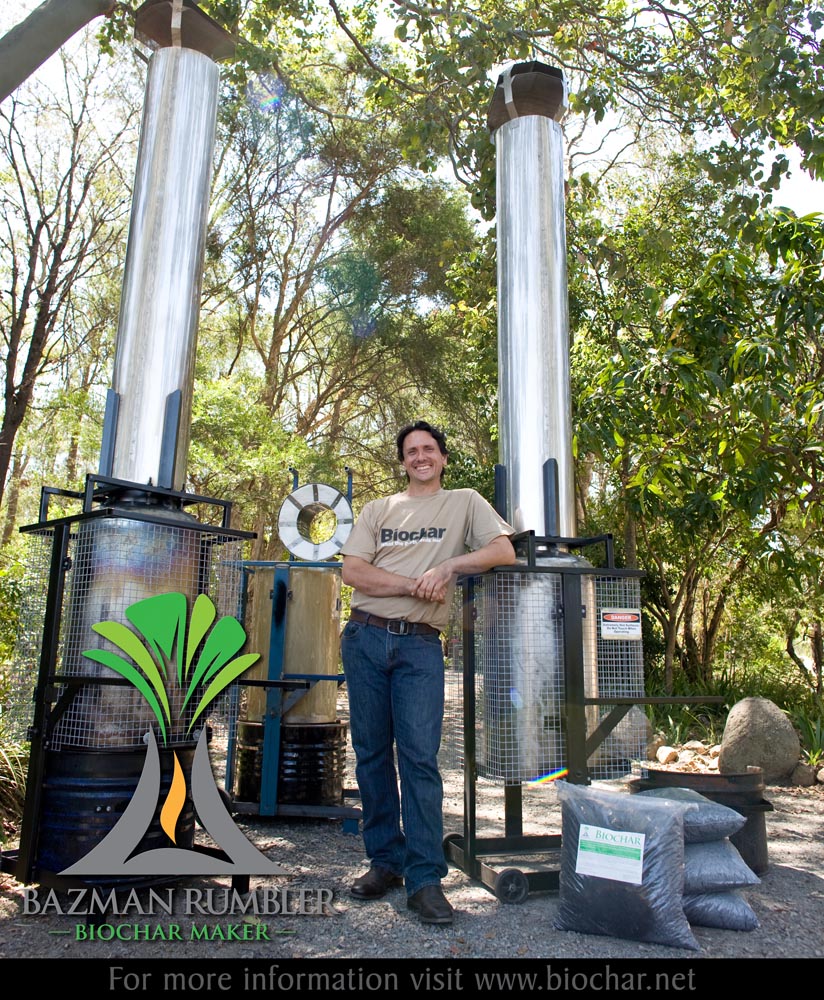 If you would like more information or to visit the farm and see the unit in action please click here >>>>
I would like to add a special thanks to Norm Smith from Weldco who specialises in Excavator buckets and custom engineering for all the fabrication and material advice over the years.
hi