May 23rd, 2013
Since the pivotal stakeholders workshop led by AITF in October 2011, ABI has been formally established and has demonstrated its capacity with two mobile demonstration scale biochar units and two new full time technical specialists. We invite you to come celebrate our progress and help develop a value added commercial biochar network in Alberta.
Director of Black is Green Dr James Joyce will also be speaking at the event which showcases Black is Green's BiGchar 1200m mobile continuous rapid thermal carbonisation technology.
For more information on black is green click here >>>>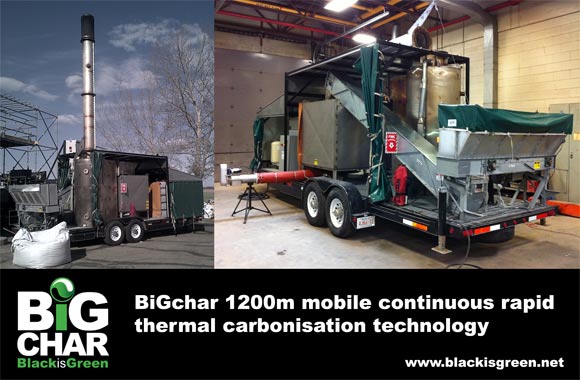 Dr. Julie Major from McGill University and Mr. Lloyd Helferty from Biochar-Ontario will be present at the event to deliver the keynotes.
The afternoon seminar will explore the fast changing terrain of biochar development in Alberta and around the world. Representatives from major industries, universities and colleges and policy experts in Alberta will join these sessions to discuss the current state of the art and the opportunities available. Participants will be encouraged to share their ideas on how we can collaborate to accelerate the commercialization of biochar in Alberta.
ABI- A Brief Description

ABI was established by the collaboration between Lakeland College and AITF with assistance from Western Economic Diversification Canada and industry support. The ABI is intended to develop and demonstrate technologies that will enable the large scale commercial deployment of biochar products and biochar applications for the benefit of Albertans.
Preliminary Agenda
9:00  – 10:00 – Registration and Networking
10:00 – 10:30 – Welcome and Alberta Biochar Initiative Updates
10:30 – 11:30 – Ribbon Cutting Event
11:30 – 12:00 — Luncheon and Networking
12:00 – 12:30 – Keynote Speaker – Julie Major
12:30 – 1:00 – Keynote Speaker- Lloyd Helferty
1:15 – 2:15 – Session 1- Biochar Product Development
2:30 – 4:00 – Session 2- Biochar Policy and Economics
4:00 – 4:15 – Concluding Remarks
Registration is FREE and lunch will be provided. 
For more information contact:
Alok Dhungana
Coordinator, Alberta Biochar Initiative
T 780 853 6241
F 780 853 8704
alok.dhungana@lakelandcollege.ca
www.lakelandcollege.ca/applied-research
The keynote speaker: Dr. Julie Major
Dr. Major's scientific background is in agronomy (B.Sc., McGill University and M.Sc., Cornell University) and soil science (PhD, Cornell University 2009). Her PhD work concentrated on the effects of biochar application to field soil fertility, hydrology and carbon biogeochemistry, over the long term. In 2009 and 2010 she worked as the Agricultural Extension Director for the International Biochar Initiative, where she provided content for the website and documents including technical bulletins, guides, white papers and research summaries. As an independent consultant Dr. Major has collaborated in writing books on biochar aimed at scientific audiences as well as farmers and gardeners. She is also involved in designing, carrying out and reporting on biochar field trials in Quebec and elsewhere. She also works as a Faculty Lecturer and Academic Advisor at McGill University in Montreal.
The keynote speaker: Mr. Lloyd Helferty
Lloyd Helferty is a freelancer, entrepreneur and a biochar activist. He is the founder and president of Biochar-Ontario, is the Steering Committee coordinator of the Canadian Biochar Initiative [CBI], and is an Advisory Committee member of the International Biochar Initiative. Most recently Lloyd co-founded a national consulting team called the Canadian Biochar Consortium (CBC), and has been active in helping to prove the value of biochar in a Canadian context.